Recently we had the pleasure of being part of a cooperative team to install an outstanding Green Wall at Flemington Racecourse, who are stoked with the result!
The wall is a massive LivePanel installation at 640cm x 250cm and was created for Flemington by Plants for Hire who pre grew the plant species selected in the cassettes of the hardware supplied by The Container Connection Victoria branch.
The greenery included, pre-grown plants in the cassettes with Red Plants as a focus for Melbourne Cup Day, Yellow for Oaks Day and so on. The plant cassettes can be swapped to suit the race or carnival colours. What a great idea! The plant species is as follows "rusty" plant is Heuchera and the greenery is made up of Holly Fern, Doodia Fern, Chlorophyum and Calathea Burle Marx.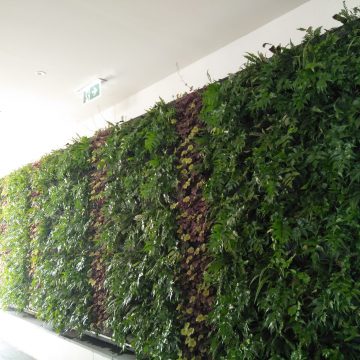 Plants for Hire in Dingley, Victoria, our talented nursery partner, recommended the species post site visit. Plants for Hire were then able to supply the plants and pre-grow them in the LivePanel cassettes for 8 weeks, they were then transferred into the LivePanel Green Wall. And the result is… alive and well!
Go team! And thanks again to Flemington Racecourse!